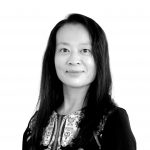 Dr. Iris Wu
Director, Confucius Institute for Chinese Medicine (UWC)
E:
confucius@uwc.ac.za
T: +27 68 115 0535
Changhong Wu (Iris), currently is the Co-Director for the Confucius Institute for Chinese Medicine at the University of the Western Cape (UWC).
She started her academic journey with UWC in 2003 and obtained a Bachelor degree in Geography and Environmental Studies, a Master's degree in Hydrogeology, and a Ph.D. degree in Earth Science.
Iris has been involved with international relationships, Chinese language teaching and learning, and cultural exchange for more than 20 years. This relationship is carried through from local high schools to universities.
Iris is conscientious, flexible, and suitable with adaptation skills. She is determined and enthusiastic to immediately take on all the responsibility of this position and make a success out of it.