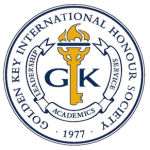 Debra Lamson
Chapter Advisor
+27 21 959 2884
---
Yaheem Badrodien
Executive Co-President, Services and Outreach
Mokone Mmola
Co-President, Administration Management
Golden Key International Honour Society
---
The Golden Key International Honour Society's seal emphasises Academics, Leadership and Service. Golden Key membership begins with the recognition of academic excellence, but the true benefit of membership is realising one's potential through leadership and service to the community.
This echoes beautifully with UWC's vision and mission of ethical leadership and engagement for the service of humanity.
On 11 August 2020, the UWC Chapter inducted 250 new members, students nominated from among the top 15% of academic achievers across all Faculties.
Golden Key is the world's largest collegiate honour society. Membership into the society is by invitation only and applies to the top 15% of college and university, as well as top-performing graduate students in all fields of study. As an international honour society with more than 400 chapters at colleges and universities around the world, Golden Key is committed to a high standard of scholastic achievement, and an ethos of integrity, innovation, respect, collaboration and diversity.
As we recognise the 60th Anniversary celebrations of the University of the Western Cape this year, and applaud our institution for this milestone, we would also like to acknowledge that the UWC Chapter of Golden Key will be celebrating its 20th Anniversary in 2021.
With over two million members, including honoraries such as Emeritus Desmond Tutu, President Nelson Mandela and Professor Brian O'Connell, Golden Key carries an esteemed legacy of achievement. Members are a community with a linkage to widely respected individuals and ideals … all part of the continuum of excellence.
For more information about the Golden Key International Honour Society and its UWC Chapter, please visit our website