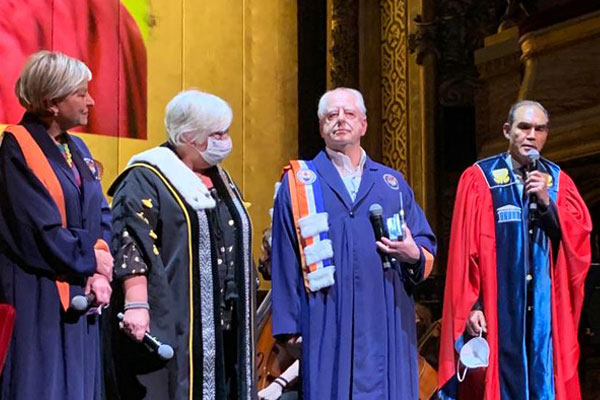 UWC Jointly Confers Honorary Doctorate on William Kentridge
The University of the Western Cape's (UWC) strategic partnership with two Belgian universities took another positive turn this week when renowned South African artist William Kentridge was awarded an honorary doctorate.
Kentridge, together with American science writer Ann Druyan, Belgian politician Pierre Kompany, and world authorities in the field of immunotherapy in Antoni Ribas of the University of California and scientist Thierry Boon Falleur of Belgium, were honoured by the Vrije Universiteit Brussels (VUB), UWC, Ghent University and other partner institutions on Wednesday, 17 November 2021.
The joint honorary doctorate awarding emphasised the connection between the partner institutions – an important statement since the advent of  COVID-19, given that cooperation and connection are even more necessary than before, according to a report on the VUB website.
The ceremony in the iconic Royal Theatre of La Monnaie in Brussels was attended by UWC Rector and Vice-Chancellor, Professor Tyrone Pretorius, Registrar Dr Nita Lawton-Misra, and Institutional Planner Larry Pokpas, among others.
Kentridge is one of the most celebrated artists in the world – working in film, theatre, opera as well as studio practice. Over a period of more than four decades, he has worked to oppose apartheid through his artistic work and cultural interventions. Working with an interdisciplinary network of scholars, artists, filmmakers, musicians and puppeteers, he has steadfastly connected the South African experience to the global struggle against the scourge of racism and environmental destruction.
Prof Pretorius said UWC was proud to be able to confer the doctorate on Kentridge for many reasons.
"When looking to confer this doctorate as a university community, we found so many connecting points between his life and the history of UWC that speaks to social justice and a society that is equitable and fair," he said.
"Furthermore, Mr Kentridge's work inspired the formation of the Laboratory of Kinetic Objects in the Centre for Humanities Research (CHR) at UWC that enabled partnerships involving faculty and student researchers in the humanities and the world-famous Handspring Puppet Company. This ongoing effort has opened the door for several meaningful international exchanges and funding opportunities that serve to benefit UWC as a whole.
"We also found that Mr Kentridge's founding of the Centre for the Less Good Idea in 2016 was both a source of inspiration and symbolic of his life as an artist – that of collaboration and drawing others into creative spaces where ideas are shared, allowing them to be transformed and mutate into powerful expressions of art."
Director of UWC's International Relations Office, Umesh Bawa, added: "The importance of this Joint Honorary doctorate to William Kentridge not only signals the strength of our continued collaborative scholarly strategic partnership with VUB and Ghent, but also deepens our commitment to a just and fair world, so aptly epitomised by his work. UWC-VUB-Ghent are together in service of humanity."
Kentridge an Important Resource for UWC
According to a citation prepared by UWC for the honorary doctorate, Kentridge has been an indispensable resource as the University seeks to launch an arts inquiry that would lend itself to the ideal of a post-apartheid university. Most importantly, among the many flourishing arts projects, Kentridge's work inspired the formation of the Laboratory of Kinetic Objects.
Kentridge's work was one of the inspirations that guided the proposal for an Andrew W. Mellon Chair in Aesthetic Theory and Material Performance held by Professor Jane Taylor at CHR. Prof Taylor's recent Chicago University Press book, Led by the Nose, based on Kentridge's Shostakovich opera, is accredited to UWC.
Similarly, a generation of younger graduates and researchers are increasingly inspired by Kentridge to explore the altered states of the human sensorium in a world of rapidly expanding technological resources.  Kentridge's production of the celebrated Ubu and the Truth Commission, co-written with Prof Taylor, was recently performed in a second iteration around the world that included CHR artist in residence, Mongi Mthombeni. The continued success of the production, which is taught widely as a text on the Truth Commission globally, lends itself to an interdisciplinary dialogue that is central to UWC's vision of building a post-apartheid university committed to reversing the emotional scars and effects of colonialism and apartheid.
In 2017, Kentridge was invited by the CHR to deliver a lecture on the artist's studio as a site of creation, at the international meeting of the Consortium for Humanities Centres and Institutes, to an audience of more than 300 leaders of humanities initiatives.
Recently, Kentridge has invited and supported a next generation of artists such as the jazz musician Kyle Shepherd, Ilze Wolff, architect and former research fellow at the CHR, and UWC Artist in Residence, Tony Miyambo through his Centre for the Less Good Idea. Shepherd, Wolff and Miyambo are each considered major interpretive voices of the South African condition locally and internationally.