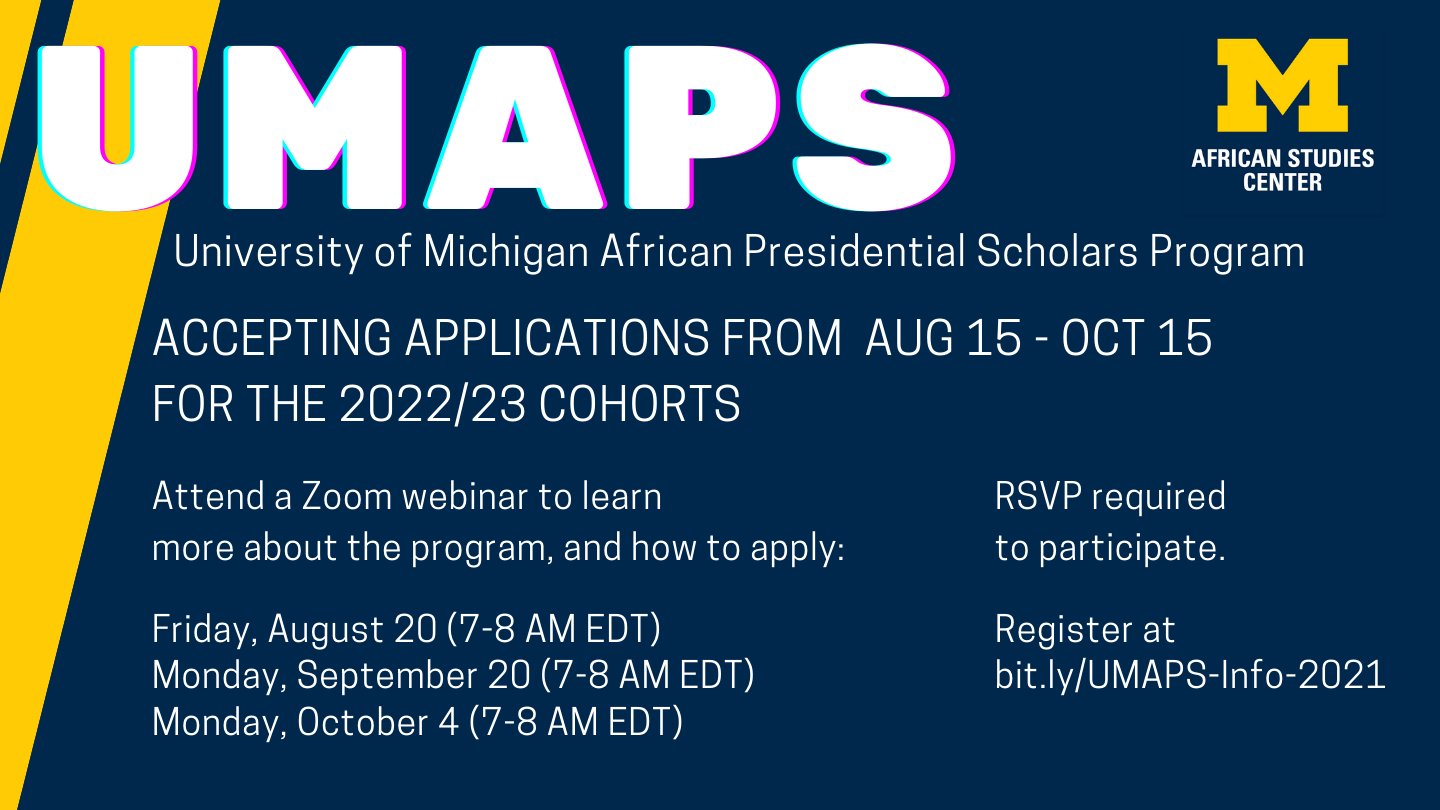 Dear Campus Community,
It gives me great pleasure to let you know that the application period for the University of Michigan African Presidential Scholars (UMAPS) programme is now open with an application deadline of 15 October 2021.
We will be accepting applications for the 2022/23 cohorts (Aug – Dec 2022 and Jan – May 2023), from eligible faculty members working at a university or college in Ethiopia, Ghana, Kenya, Liberia, Rwanda, South Africa, and Uganda. Candidates can be in any discipline or field in which the University of Michigan has expertise.
UMAPS is a residency programme for early and mid-career academics who have worked in higher education for 10 years or less, and are currently working as academic staff at an African university or college in an ongoing position. Five-month residencies at the Ann Arbor campus of the University of Michigan (U-M) allow dedicated time to work on a research project while benefiting from the resources and intellectual community at U-M.
Please see the programme website for more information, including programme benefits, eligibility criteria, and how to apply: Application Info | U-M LSA African Studies Center
We recommend that interested candidates attend one of the programme information sessions that we are organizing on Zoom:
Dates:
Friday, 20 August 2021
Monday, 20 September 2021
Monday, 4 October 2021
All sessions will be held from 7:00 – 8:00 am Eastern Standard Time (13:00 – 14:00 pm South African Standard Time)
The link to register for these (to receive the Zoom link) is here: bit.ly/UMAPS-Info-2021
With kind regards,
African Studies Center
International Institute
500 Church Street
University of Michigan
Ann Arbor, MI 48109