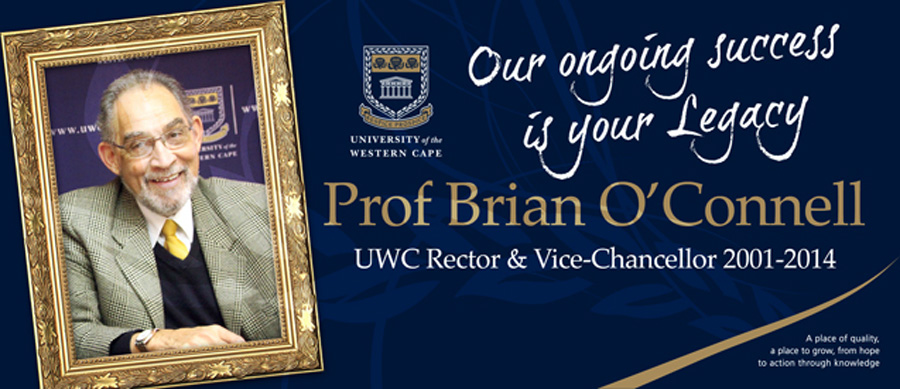 Professor Brian O'Connell
In 2001, former Rector Professor Brian O'Connell assumed Vice-Chancellorship. Under his visionary leadership, UWC was challenged to demonstrate that it is capable of competing with the best and of playing a prominent role in the intellectual, social and economic life of South Africa.
One of UWC's concerns for the future is to use its mandate to create and maintain a sense of hope, while helping to build an equitable and dynamic society. A second concern is with its role in the knowledge economy. It remains committed to creating and disseminating knowledge that is relevant to the challenges of a modern world and a transforming society. 
A third concern, which is inseparable from the notions of hope and knowledge, is a concern with agency – the will and the ability to act, to be an agent of change. A dynamic future beckons as UWC strives to be a vibrant institution of high repute, in pursuit of excellence in teaching, learning and research.
Under the leadership of Prof O'Connell, international co-operation and collaboration flourished. The relationship with UWC's stalwart partner, the University of Missouri (UM), developed in ways which contributed to both universities' pedigree, and Prof O'Connell was awarded an honorary doctorate by UM to mark his contribution. 
The fruitful partnership with the University of Ghent (UGent) took productive shape in recent years, and there is now a tri-continental partnership between UWC, UM and UGent. Prof O'Connell was also instrumental in UWC becoming one of the four founding members of SANORD, a multilateral academic network between Southern African and Nordic institutions.