Physiotherapy Postgraduate newsletter
---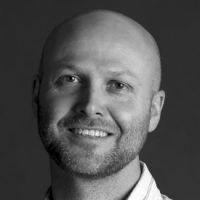 Prof Michael Rowe (HoD)
Welcome to the first UWC Physiotherapy Research newsletter.
This newsletter is a project we're running from the department to try and better engage with those of you who have been UWC postgraduate students, as well as those who will be postgraduates in the future.
We'd like this to be a way for us to stay in touch, to share what we've learned, and to learn from you as we all try to figure out better ways of conducting research in physiotherapy.
If there's something you'd like to know more about or that you think others might be interested in, please consider letting us know, and we'll do our best to respond or to share your suggestions more widely.
We hope that this newsletter is a small step towards growing a community of researchers in Africa. And we hope that you'll come along with us as we learn together.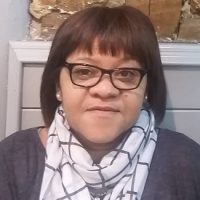 Prof Julie Philips (PG & Research coordinator)
Welcome to the first quarterly newsletter of the Postgraduate Division of the Physiotherapy Department in the Faculty of Community and Health Sciences at the University of the Western Cape. With our newsletter we aim to share the current developments in our department, developments in the area of physiotherapy both locally and globally, highlights from the department and information about upcoming events.
After the announcement of the first case of COVID-19 in Africa in 2020, we all had to change the way we function as academics and clinicians. Concerns were raised for our continent as some of the known risk factors for severe cases of COVID-19 i.e. chronic obstructive pulmonary disease, heart disease, hypertension and diabetes, are widespread in Africa. The role of physiotherapy in acute hospital wards and ICUs have been well established globally and physiotherapists who work in primary health care facilities are likely to be part of the management team of a patient with confirmed or suspected COVID-19. In addition, the role of physiotherapists in the provision of exercises and rehabilitation for survivors of critical illness linked to COVID-19 to enable these patients a functional return to home, have also been very clear.
Abdullahi and colleagues (2020) outlined the efforts, challenges and future directions of physiotherapy management in Africa in Physiotherapy Theory and Practice, 36:8, 871-872: https://doi.org/10.1080/09593985.2020.1798163
These authors leave us with some food for thought for us as physiotherapists: how can we incorporate some of these ideas in our practice and/or research?
In addition, the role of research in tackling our societal challenges have also become strikingly obvious and gives us more food for thought about future research projects.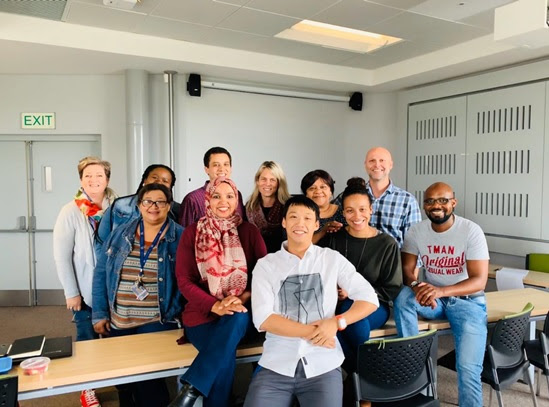 The team in our department are all passionate about both physiotherapy education and the respective research niche areas.
The key areas of research in our department are illustrated in the diagram below: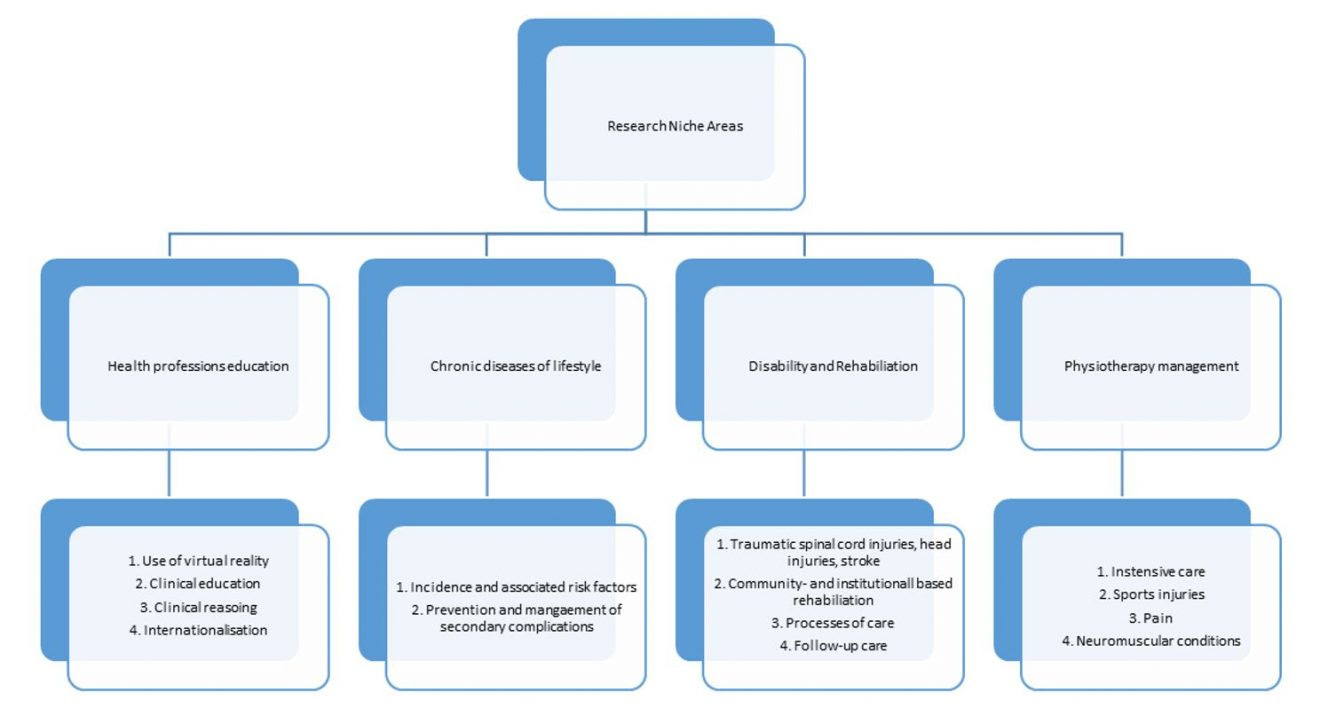 ACHIEVEMENTS:
Despite the challenging year of 2020, we can still celebrate our latest graduates' achievements, three of which graduated with their MSc and 3 with their PhD. Congratulations to you all. Here you will find a link to their theses too.
UPCOMING EVENTS
Our first research seminar is happening on 24 March 2021 at 17h00. It would be great if you can join us. You will find the link here
Our postgraduate proposal presentation dates for the next term is 14 April and 19 May 2021. Those of you that want to do your proposal presentation on these dates, make sure you liaise with your supervisor timeously.
RESOURCES
Here are some useful resources/tool that you might find interesting too:
Zotero: For resource management (unlike most reference managers, this one enables you to pull in PDFs, as well as less formal resources, like YouTube videos, blog posts, etc.).
Research Masterminds, A YouTube channel from Benita Olivier (physio at Wits), includes some useful tips for PG students.
Research Masterminds, A YouTube channel from Benita Olivier (physio at Wits), includes some useful tips for PG students.
LATEST PUBLICATIONS (2020)
Steyl, T. (2020). Satisfaction with quality of health care at primary health care settings: perspectives of clients with type 2 diabetes mellitus. South African Journal of Physiotherapy, 76 (1). https://doi.org/4102/sajp.v76i1.1321
Pretorius, T. (2021). Depression among healthcare students in the time of COVID-19: the mediating role of resilience in the hopelessness-depression relationship. South African Journal of Psychology 0(00), 1-10. https://doi.org/10.1177/0081246321994452
Nizeyimana, E., Joseph, C. Phillips, J. (2020). Quality of life after traumatic spinal cord injury in a developing context: the influence of contextual factors and injury characteristics, Disability and Rehabilitation, DOI: 10.1080/09638288.2020.1827051.
Madasa, V., Boggenpoel, B., Phillips, J., Joseph, C.(2020). Mortality and secondary complications four years after traumatic spinal cord injury in Cape Town, South Africa. Spinal Cord Series and Cases 6, 84. https://doi.org/10.1038/s41394-020-00334-w
Akindele MO., Useh U., Phillips JS. (2020). Weight Reduction for Overweight and Obese Adults: Challenges Experienced in a Nigerian Community. African Journal of Biomedical Research, 23: 65-70. (https://www.ajol.info/index.php/ajbr/article/view/202160)
Rowe, M. & Sauls, B. (2020). Using video to learn practical techniques in physiotherapy education. African Journal of Health Professions Education, 12(2).
Dahl-Michelsen, T., Groven, K.S. & Rowe, M.(2020). Using Internationalisation at Home to provide international learning to all physiotherapy students. African Journal of Health Professions Education 2020;12(1):5.
Rowe, M. & Sauls, B. (2020). The use of smartphone apps in clinical practice: A survey of South African physiotherapists. South African Journal of Physiotherapy, 76(1): a1327.
Ennion, L. & Hess, D. (2020). Recommendations for behavioural facilitators to success in a Physiotherapy clinical practice module: Successful students' perspective. South African Journal of Physiotherapy. South African Journal of Physiotherapy. 76(1).
Kock, L., Mlenzana, N. & Frantz, J. (2020). Perceptions, attitudes and understanding of health professionals of interprofessional practice at a selected community health centre. African Journal of Primary Health Care and Family Medicine.
Some words of encouragement from our current students
"Perseverance and determination will get you through anything. Slow and steady wins the race, so I tend to allocate an hour or two a day, every day to do something related to my studies, as consistency is key when trying to juggle so many things at once. This also helps minimize my stress levels and every day I have a new, fresh outlook on what I have to get through. At the end of it all, all the blood, sweat and sacrifices will be well worth it." Toughieda Ellocker, PhD student.

"Being a PG student and being employed full time or part-time, is a challenge on its own. But the personal growth that happens along the way as you overcome those challenges is both exciting and motivating." Jacqueline Hendricks, MSc student