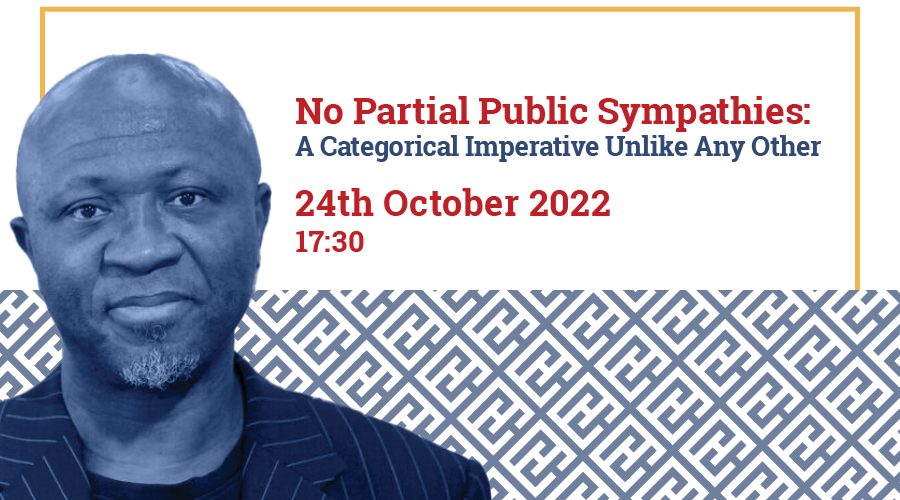 The CHR will be hosting a public lecture by Professor Grovogui on Monday, 24 October at the District Six Homecoming Centre.
'No Partial Public Sympathies' forms part of the annual CHR Winter School programme which is gathering this year around the question of The Minor.
The principle of 'no partial public sympathy' has for four centuries guided political and institutional experimentation in the Africana diaspora from Palmares to Haiti. It comes from a unique sense of political subjectivity on the part of sections of the Africana diaspora and a self-assigned historical mission on their part to heal the world in the wake of enslavement and colonialism. This categorical and institutionalized imperative has therefore been central to the political aspiration of generations of African-descended people and has application beyond the context of its inception. The goal of this public lecture is not only to speak to its historical manifestations in Africana thought, an event lost on modern political theory and philosophical systems, but to also point to the tragedy of its non-recognition as source of much tragedy in the world today – including in Africa.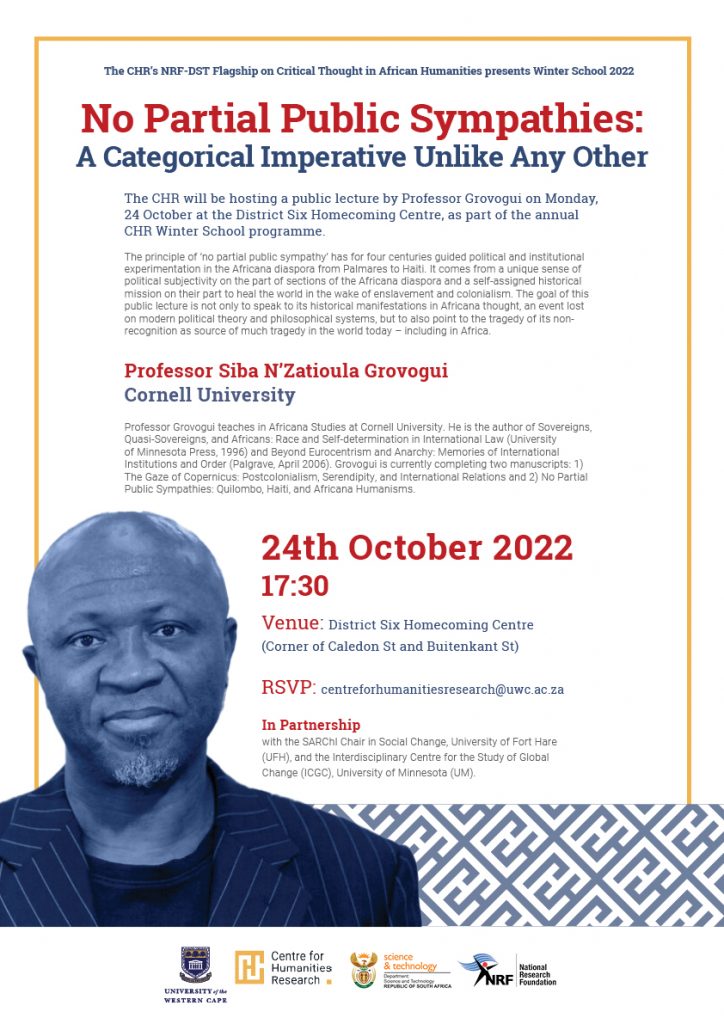 Date: Monday 24th October 2022
Time: 17:30
Venue: District Six Homecoming Centre (Corner of Caledon St and Buitenkant St)
About Professor Siba N'Zatioula Grovogui:
Professor Grovogui teaches in Africana Studies at Cornell University. He is the author of Sovereigns, Quasi-Sovereigns, and Africans: Race and Self-determination in International Law (University of Minnesota Press, 1996) and Beyond Eurocentrism and Anarchy: Memories of International Institutions and Order (Palgrave, April 2006). Grovogui is currently completing two manuscripts: 1) The Gaze of Copernicus: Postcolonialism, Serendipity, and International Relations and 2) No Partial Public Sympathies: Quilombo, Haiti, and Africana Humanisms.
In Partnership
with the SARChI Chair in Social Change, University of Fort Hare (UFH), and the Interdisciplinary Centre for the Study of Global Change (ICGC), University of Minnesota (UM).