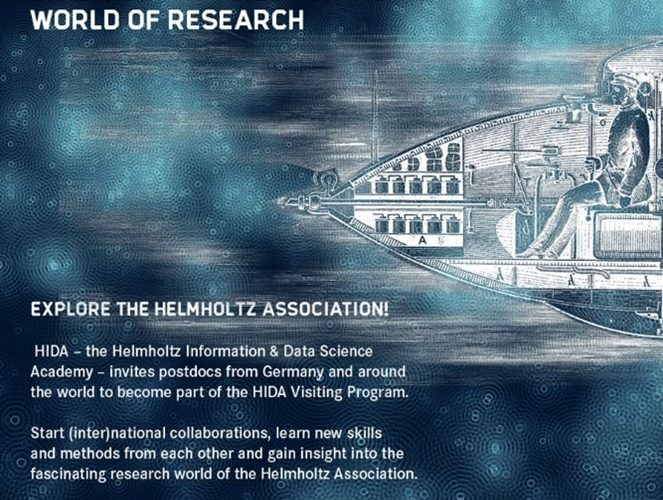 The programme, promoted by Helmholtz Information and Data Science Academy (HIDA), aims to enable new research collaborations, to foster knowledge exchange, and to explore new or emerging research topics in the field of information and data sciences.
For more information: https://www.helmholtz-hida.de/en/new-horizons/helmholtz-visiting-researcher-grant/
Degree level: PhD, PostDoc
Deadlines
15 October 2022
Who can apply?
Postdoc and doctoral students and researchers from research organizations, universities and industry worldwide;
Master's degree with at least 3 years of research experience or PhD.
Fields of Study
Research Areas: Energy; Earth and Environment; Health; Information; Matter; Aeronautics, Space and Transport.
For an overview of the Helmholtz centers and specific research areas, please visit: https://www.helmholtz.de/en/about-us/helmholtz-centers/
What the scholarship offers
Fully-funded short-term research grant – (2,860 EUR per month plus allowances).
Application process
Applications for the Helmholtz Visiting Researcher Grant are accepted via the HIDA application portal
Step 1: Contact a research group at one of the 18 Helmholtz Centers to discuss the possibility of a 1- to 3-month research stay.
Step 2: You and the hosting Helmholtz center (e.g. head* of the corresponding research area or group) can apply for a Helmholtz Visiting Researcher Grant to financially support your stay.
Step 3: Prepare for your stay and get inspired by the fascinating world of Helmholtz research!
Before you apply, please read the application guidelines carefully. The review process may take approximately 3 months
---
Please note that this opportunity is not offered by the Department of Higher Education and Training. Applicants are required to undertake their own research into programmes and institutions and are responsible for ensuring that the qualifications will be recognised in South Africa. If there are any discrepancies in the details provided, the information given by the sponsor supersedes the details provided above. No additional financial support will be provided by the Department of Higher Education and Training.