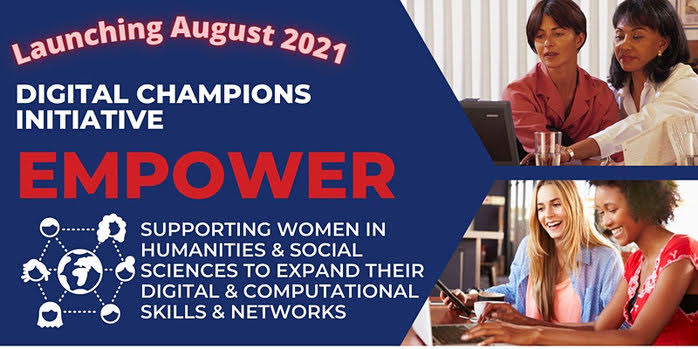 The ESCALATOR programme aims to support the development of an inclusive and active community of practice in Digital Humanities and Computational Social Sciences in South Africa. The programme is run by SADiLaR.
The Digital Champions Initiative includes six mentorship tracks and provides an opportunity for scholars to hone their computational and digital skills and become part of the growing community. The EMPOWER track specifically targets women in Humanities and Social Sciences who are interested in digital and computational research.
In August 2021, we're launching the EMPOWER track with a series of talks and open discussions. The series coincides with South Africa's Women's Month. Our presenters include:
women who represent existing technology communities who actively support women to acquire these skills; and
female researchers or lecturers in humanities or social sciences who themselves have adopted various forms of technology in their own work.
We hope that these talks and discussions will encourage women in Humanities and Social Sciences to grow their own digital and computational skills, share their experience with others, and become part of an active community of practice in South Africa.
Throughout the series we will provide information about
how technology could enhance your work;
why it is important to learn these skills;
where to find resources to support your learning; and
how to connect with communities that could support your technology adoption journey.
Speakers
5 August 2021
Adaugo Isaac, WanaData, Code for Africa

Dr Candice Livingston, Research Coordinator, Faculty of Education, Cape Peninsula University of Technology
12 August 2021
Vebash Naidoo, RLadies

Dr Ekemini Eyita-Okon, Postdoctoral fellow, Centre for Africa-China Studies, University of Johannesburg
19 August 2021
Dr Angelique Trusler, The Carpentries

Dr Caroll Hermann, Faculty of Arts, University of Zululand
26 August 2021
Laura Mugeha, Regional Ambassador, Youthmappers

Dr Ingrid Brudvig, Digital Anthropologist, Independant Consultant
Participants
Students, researchers, lecturers, librarians, research support staff and others from humanities and social sciences are invited.
Event venue
The series of presentations and discussions will be hosted online via Zoom. Connection details will be shared before the event with all registered participants.
Costs
Participation in the series is FREE.
Registration
Please register online before the start of the events.
If you have any questions, please liaise with Anelda van der Walt via e-mail – escalator@talarify.co.za.