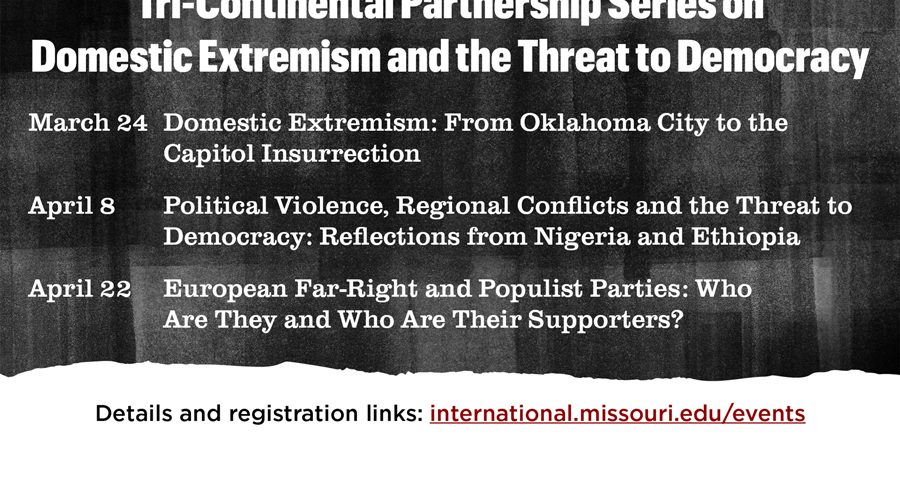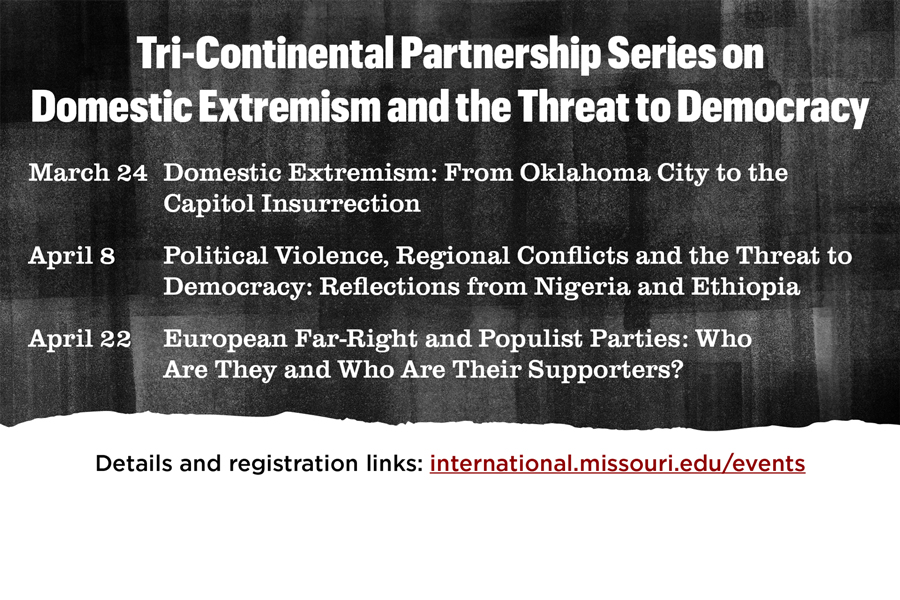 Domestic Extremism: From Oklahoma City to the Capitol Insurrection
---
Thursday, March 25 | 7–8:30 p.m. SAST
From the founding of the United States, disaffected groups have used or threatened to use violence as a means of affecting political change in the country. Hosted by the University of Missouri, this presentation will focus first on the rise of militant extremists in the 1980s that led to Ruby Ridge, Waco and, ultimately, to the bombing of the federal building in Oklahoma City in 1995. In the aftermath of that bombing, federal law enforcement cracked down on domestic terrorists. The presenters will then discuss the dramatic rise of militant extremist groups following the election of President Trump and the ongoing threat such groups pose in the wake of the Jan. 6 attack on the Capitol.
Speakers:
Leonard Zeskind
Rodney Uphoff
Political Violence, Regional Conflicts and the Threat to Democracy: Reflections from Nigeria and Ethiopia
---
Thursday, April 8 | 7–8:30 p.m. SAST
This session, hosted by the University of the Western Cape, will explore the regional conflicts in Ethiopia and its destabilizing impact on the countries in the Horn of Africa. Boko Haram is involved in an armed conflict with the Nigerian government, including its tactic of the kidnapping of young girls for political leverage. This session will offer critical insights into the manner in which extremism and regional conflict affect children's rights, human rights and democracy.
Speakers:
Umang Maria Assim
Namhla Matshanda
Keith Gottschalk
European Far-Right and Populist Parties: Who Are They and Who Are Their Supporters?
---
Thursday, April 22 | 7–8:30 p.m. SAST
Hosted by Ghent University, the first part of this webinar will provide a historical perspective on (far-right) populist parities across Europe. In combination with recent empirical research, an attempt will be made to offer an explanation for the impact far-right parties can have on liberal democracy in general, and on specific policies in particular. The second part of the webinar will focus on the radical left and right supporters. It will be argued that political cynicism is their relevant attitude and there will be a discussion on the ways in which political cynics have become highly effective. The session will conclude with suggestions for how traditional parties may overcome the "trust crisis" in politics.
Speakers:
Jasper Praet
Alain Van Hiel
Jasper Van Assche
---
All sessions will be held online. Registration links available at international.missouri.edu/events.